10 Tips For Hiking With Kids
Nothing feels better than getting outside on a lovely day and hiking with the kids after a busy day at the office. Hiking with kids can be a fantastic time and a great way to bond as a family. Here are some tried and tested tips to help you keep your hike kid-friendly.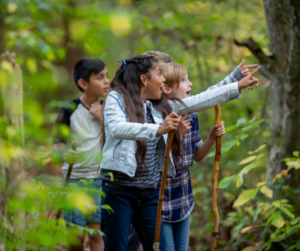 1. Bring sturdy backpack
To carry everything you need, get a good hiking backpack that's comfortable for long stretches of time. The straps have to be cushioned and should fit your shoulders well. Focusing on the vast wilderness, you can stow your food, water, rope, clothing, maps, and binoculars.
2. Healthy snacks are essentials
When hiking, kids burn a lot of energy, so providing them with some healthy snacks will help keep their spirits up and whining levels down.
3. Water
Do not disregard this. Have water bottles on hand because you and your kids will dehydrate. You should bring as much water as you can carry comfortably
Both fanny packs and backpacks work well for this. Depending on where you are hiking and how far, make it essential to keep an eye on your water intake to prevent drinking it all before your hike is even halfway complete.
4. Be ready for anything by bringing a first aid kit.
Have a first aid kit on hand and be ready for anything.
You must be ready for everything when hiking with children, especially little ones. Bring a first aid kit. Ibuprofen, blister care pads, bandages, Neosporin, and antiseptic towelettes are a few of the essentials. Of course, sunscreen to shield yourself from the sun – this should be applied daily and not just for those long summer hikes.
5. Take plenty of breaks.
Take frequent breaks, especially if you're hiking with young kids. Plan to have a lot of stops to sit and rest as tired and hungry little hikers are no fun to deal with. Also, Kids who go hiking are naturally curious and will want to pause and explore.
6. Bring a camera
Make sure you bring a camera and let the kids take pictures to keep them engaged in a hike and to help teach kids to appreciate nature while not destroying it by picking flowers, etc… Also, they remember the hike and make unforgettable memories with your kids.
7. Play Hiking Games
Kids' love of games is not a surprise. Children can be entertained while hiking by playing games. They benefit from being aware of their surroundings to catch everything important.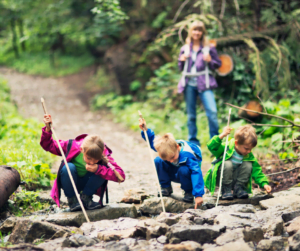 8. Be prepared with extra gear
Even if you don't have to carry your kids while hiking, you'll still need a good hiking pack to carry all of their gear. Adding extra hiking equipment for the kids can ensure everyone is comfortable on your family hikes. This could be rain gear for children, gloves, hats, and extra sweaters for hikes.
Kids enjoy having their own hiking equipment because it makes them feel more adult and a part of the hiking experience as a whole.
9. Make it a Family Tradition
If you're looking for a way to get your family into hiking, start by making it a tradition.
Making hiking a family tradition is one of the finest methods to persuade your kids to join you on your hikes. They will then want to go hiking more frequently because they will always equate it with family time. Finding family-friendly hikes that are still difficult enough to be enjoyable for everyone is the trick.
10. Reward or Treat your kids after the hike is over.
A little motivation may go a long way while hiking with young kids. Assure them that they will receive a wonderful reward or treat if they complete the hike. Create a prize at the end of your hiking trail. If there is a reward for finishing the hike, your kids will stay interested for longer.