Why should you book your summer staycation now, in the midst of winter.
Clients often ask us: "When is the best time to book a cottage for the upcoming summer?" While we have seen an increase in clients who book their cottage holiday in spring or early summer – it is our recommendation that, to get the best selection, you should be seriously planning your summer cottage rental during the months of December, January, and February. We especially recommend booking as soon as possible if you require a cottage that has any of the following attributes. Cottages such as these are often rebooked from year to year by returning renters and represent a smaller percentage of our cottage inventory.

You are looking for two or more consecutive weeks. One or two bookings at a cottage for mid-summer weeks quickly reduces the options for longer term rentals

If you have young children and are looking for waterfront beach you should start early.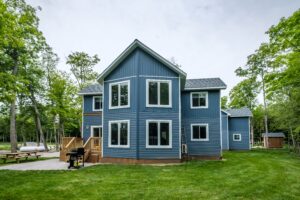 3. You prefer late July or early August dates – these are the most popular weeks of the summer and are always the first weeks to be rented out in any cottage.
4. You need a larger cottage to accommodate an extended family or larger group of 10 – 12 people. These are high-demand cottages that usually book very quickly.
    5. If you are travelling with pets (especially if more than 1 pet) or alternately needing an animal free cottage.
   6.  If you have a specific cottage that you prefer or interested in renting multiple cottages that are side by side.
All our cottages are finished and furnished the same way; however, we do have some that are newer with half of our facility renovated in 2014 and the rest newly built this previous year. However, we do understand that everybody does have their preferences in terms of location and size.
What sets us apart from all the other cottage rentals in the area? I would have to say EVERYTHING, we are about change and adapting to what our clients  demands' are. To avoid the disappointment of not finding a cottage that can accommodate your group remember to contact us as soon as possible and secure your booking today. Our staff are here to assist, even during our off season. Email us at info@bluepigeonresort.com or call us directly and we hope to see you this upcoming season.